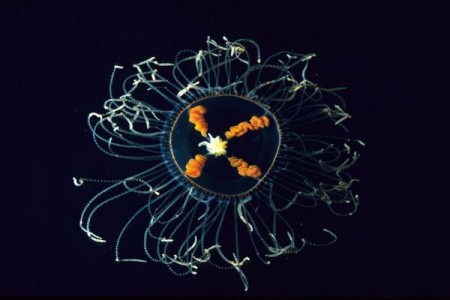 WCVB – The name doesn't exactly slip off your tongue. In Latin it's Gonionemus Vertens.

But even the researchers at the Woods Hole Oceanographic Institute call the little jellyfish "the clinger" because it sticks and stings.

The jelly is being found in ponds and bays in Cape Cod and on Martha's Vineyard.

On Thursday, a family swimming off a dock in Falmouth was surrounded by "thousands" of them.

Michelle Langone, a 17-year-old visitor from Florida, was taken to the hospital with respiratory and paralysis issues after being stung repeatedly.
Uh, oh. Nobody wants to have to deal with a "clinger" over summer vacation. Listen Gonionemus, can I call you Joey? Good. Listen Joey, summer is a time of freedom. 17 year old Michelle didn't come up here from Florida to get "stuck" to you and nobody else did either.
Do us a favor and keep swimming will ya? No more "sticking and stinging". We don't want to be friends on Facebook, and we definitely don't want to exchange numbers. Nothing is worse than not getting the hint that you've worn out your welcome. Sorry bud, summer vacation is supposed to be care free and casual, ain't nobody got time for a clinger.
Facebook: The Real Cape
Twitter: Hippie - Insane Tony