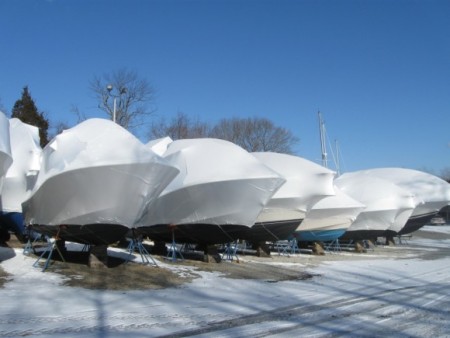 WL – For the past 15 years, boat shrink wrap has been a popular way to protect vessels throughout the winter months but has largely ended up in the waste stream. However, through local recycling efforts at the Woods Hole Sea Grant Program and Bourne Integrated Solid Waste Management Facility, the material — also known as number four low-density polyethylene — will be on its way overseas to be converted into new construction material.

Jeffrey Brodeur, community outreach specialist at the program, explained that efforts to re-use the plastic have largely stepped up in the last five years and he said his offer to provide a free drop-off site to gather the material is to just one way to help the process along.

"We have a 30-yard roll-off container – basically a giant Dumpster – on site for the next month and we are hopeful we can collect a lot of shrink wrap as the boating season begins," Brodeur said. "This is the first real attempt at this project so we are starting slow and, depending on how it goes, we hope to expand next year.

"We are working along with Cavossa Disposal Corporation in Falmouth, that will help us bring the material to Bourne. This is also really an education effort because a lot of people don't know what to do with the boat shrink wrap and they end up just rolling it up and throwing it away. We want to help teach people that it can actually be re-used to make some pretty incredible things."

To dispose of shrink wrap, call Jeffrey M. Brodeur, communications and outreach specialist at Woods Hole Sea Grant/Woods Hole Oceanographic Institution, at 508-289-2665. For more information, go to: www.whoi.edu/seagrant or www.facebook.com/woodsholeseagrant.
Well this is one of those ideas that makes so much sense it's hard to believe nobody was already doing it. There is a boatload of shrink wrap on this peninsula. The only way this would make more sense is if they teamed up with the SOLO corporation and turned all of the shrink wrap into drinking cups that could be sold back to boaters at a discount.
This could be the most symbiotic relationship in boating history. We could have the boaters save all the SOLO cups as well as the shrink wrap. That way we could use the same plastic to cover our boats in the winter that we used to drink rum and cokes out of all summer. I think I just came up with the most genius idea the boating world has ever seen. It's a perfect plan.
Oh I'm crazy you say?
Am I? Or am I so sane that you just blew your mind?
It's impossible you say?
Is it? Or is it so possible that your head is spinning like a top?
It can't be you say?
Can't it? Or is your entire world just crashing down all around you?
Facebook: The Real Cape
Twitter: Hippie - Insane Tony
More Articles From The Real Cape: