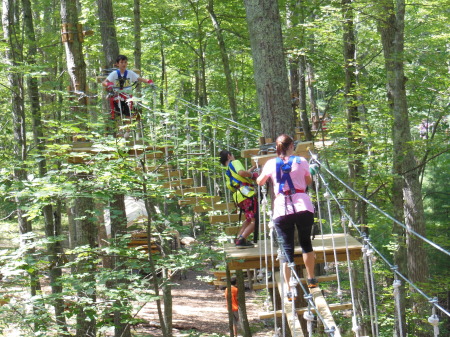 CapeCodTimes.com – It was one year late, but neighbors of Heritage Museums & Gardens aired objections Wednesday to an aerial adventure park before the Old King's Highway Historic District Committee and were repeatedly told they were out of order.

William Collins, chairman of the committee, attempted to keep focus on a fence, stone pillars, lighting and a gate Heritage is planning to alter as part of its parking lot plans, but the neighbors repeatedly tried to talk about what they called the "elephant in the room."

"The frustration of the neighborhood is because we didn't have this opportunity on April 23, 2014," Judy Stainbrook said. "We are not the adversaries."

There was a particularly hostile exchange between Collins and Peter Mello, an attorney representing neighbors in a lawsuit over the historic committee's approval one year ago of the adventure park. Neighbors say they were kept in the dark about those plans and allege Heritage misled the town by filing incorrect lot numbers on its application so neighbors wouldn't be notified of a public hearing.

"It's a matter of trust. That's the problem here," Carlo DiPersio, another neighbor, said. "That's why you have to limit people and what they're saying. We've been living with this lack of trust."
Holy shit Judy and Carlo, cry us a freakin' river. You lost. You went through every single avenue of appeal known to man and didn't get one vote in your favor. Everyone likes the zip lines but you. In a time where kids are getting hooked on heroin left and right, a museum gave teenagers something to do. You sounded like assholes when you were fighting it, now you are just sad little Fun Police trolls that can't let go.
And what's this crap about living with no trust? You are acting like the person who got dumped and just won't accept it. It's time to move on, the lines are built, it's been a year. Hertiage doesn't care if you don't trust them, they don't think about you anymore, they have a hot new aerial adventure park that is better in bed than you ever were, take a hint and get lost will ya?
Facebook: The Real Cape
Twitter: Hippie - Insane Tony