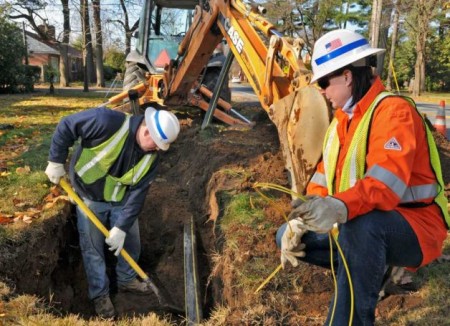 CapeCodOnline.com –  Property owners looking to hook up to National Grid's natural gas line may find they have a long wait ahead of them.

The utility company has instituted a moratorium on new hookups in all of Brewster, Dennis, Yarmouth, Orleans, Eastham, Harwich, Chatham and parts of Barnstable. The halt could last until 2019…

The moratorium was prompted by a recent inspection of the main transmission line along a 21-mile stretch spanning the Mid- and Lower Cape, which revealed some of the equipment was not up to current standards.

"We made the decision to lower the pressure in the main from 200 pounds per square inch to 125 until it's replaced," Navarro said. "We're still evaluating what has to be done."

"They found they had 4-inch pipe in some places where they thought they had 6-inch," Wolf said. "The infrastructure isn't there so they have to ratchet back until it is."

"Suffice it to say, the gas main is totally safe," Navarro said. "Some of the equipment just doesn't meet with current standards for the higher pressure, so we decided to lower it as a precaution."
National Grid is the gas Nazi. No gas for you! Don't worry though, 2019 is right around the corner. You'll get your gas just in time to make some killer dip for Super Bowl 54 between the 49ers and the Neptune Blue Knights. On the bright side, you'll be able to afford the conversion because that car you just bought will be paid off by then.
On another note, how about National Grid blowing smoke up our asses about how safe their infrastructure is as well? You aren't fooling anyone turning the pressure down to 125 psi. We've all seen enough sci-fi movies to know that anytime you can only run the thrusters at 62%, something is about to explode.
Sleep well everyone, there's a giant pipe bomb underneath us.
Facebook: The Real Cape
Twitter: Hippie - Insane Tony