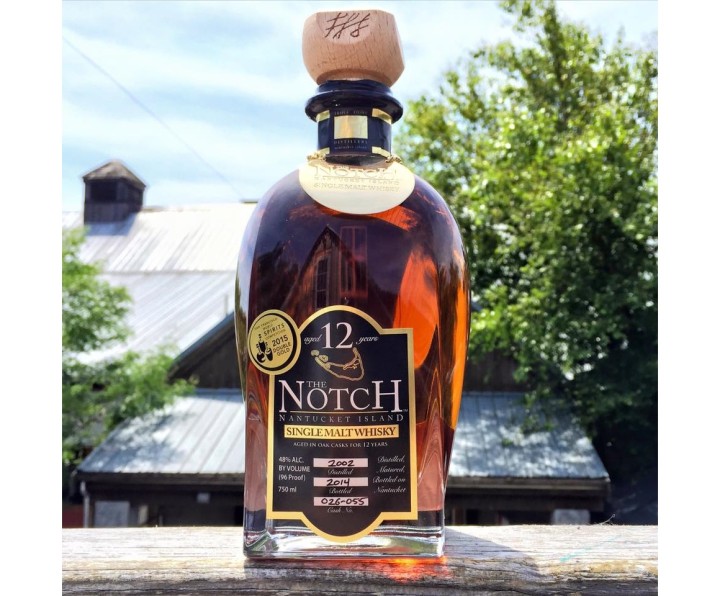 ACK – Notch Whisky, the barrel-aged, single-malt of Triple Eight Distillery, hit gold last week in the International Spirits Challenge in London, which judged the 12-year batch released earlier this year to be the best single-malt whiskey in the world, outside of Scotland.

Only Scottish single malt whiskey can be called Scotch so it competes in a separate category.

"I can't emphasize enough how learned, how distinguished this group is," Triple Eight co-owner Randy Hudson said before listing off the heavy hitters competing and judging the event from Ireland, Scotland, Japan, France, Australia, the U.S. and more. All spirits are rated in a blind taste test by a panel of industry elites.
Well, well, well, would you look at that. For quite some time people have been saying that the year round residents of Cape Cod and the Islands are a bunch of alcoholics. Well, you know what they say, when life gives you lemons, make booze out of 'em! (or something like that). Congrats to Triple Eight Distillery.
Seriously though, it may be a cliche, but they say if you find something you are good at and really love doing and you can turn it into a business, then you'll never work a day in your life. Why do you think we started a website where we get to be sarcastic pricks and throw giant parties?
This concept of loving what you do probably explains all of the alcohol companies that are thriving on the Cape and Islands as of late. We've got Cape Cod Beer, Devil's Purse Brewery, Bad Martha Beer, Cisco Brewers/Triple Eight Distillery/ Nantucket Vineyards, Farmer Willie's, Truro Vineyards, and the list goes on.
Cape Cod may be full of people who love their booze, but it's also full of some of the smartest people on earth, so it looks like we are turning the tides from being the alcoholics capital of the world to the alcohol business capital of the world. I don't know about you, but here at The Real Cape we couldn't be more proud.
The only thing better than being a bunch of drunken, sarcastic pricks that like to party is being a professional bunch of drunken sarcastic pricks that like to party and make money doing it. If Cape Cod keeps going in the direction we are headed we may just become the Silicon Valley of Gluttony. What a country!
Facebook: The Real Cape
Twitter: Hippie - Insane Tony
More Articles From The Real Cape: