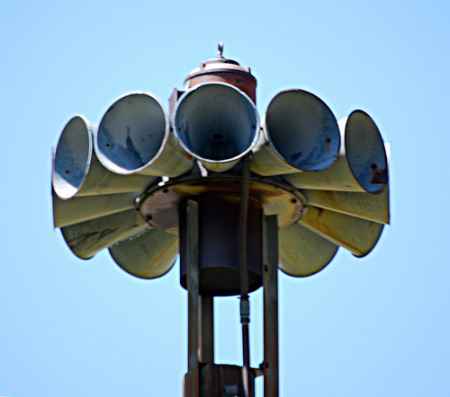 Ack.net– Beginning next spring, if you hear sirens sounding throughout the island, it could be an alert to a fire, impending storm or another emergency event.

The town's new Emergency Warning System is comprised of three sirens which will be installed over the winter or spring. One will be in Madaket, one in Sconset and one at the town-owned 2 Fairgrounds Road property. The Madaket and Sconset sirens will be installed at the remote fire stations, town emergency management coordinator Dave Fronzuto said.

 "This isn't new technology, this is kind of the basics for public- notice systems," said police chief Bill Pittman, who proposed the idea after talking about it with town officials for years.
So let me get this straight, if you hear the sirens it means that there is a fire… or a storm coming… or another emergency event? Um… What year is this? How do you know which emergency to prepare for? What's to keep me from hurricane taping the windows of a building that's actually on fire?
It seems a little confusing to use such antiquated technology in the 21st century. Hey Nantucket, instead of having people running around all confused, putting on rain coats and galoshes to prepare for a missile attack, why don't you just open a Twitter account? It can be tough to get all the details out in 140 characters or less, but not nearly as tough as getting all the details out when you are using a fucking siren.
P.S. How about that last paragraph? Even chief Pittman is like… "This shit is old as dirt".
P.P.S. If you are on Nantucket, and it is possible for you to be taken by surprise by a storm that is strong enough to warrant a siren, in the year 2014? Then you need to re asses your life.
Facebook: The Real Cape
Twitter: Hippie - Insane Tony