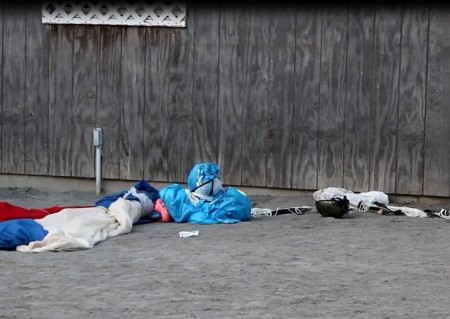 PJ – Two skydivers died after crashing into a barn Sunday, the Cape Cod Times is reporting.

The two men were connected by a harness and using one parachute, the Barnstable police told the Cape Cod Times.

Officials released the names of the two men on Monday. They are Andrew Munson, 29, of Nantucket and his skydive instructor Eldon Burrier, 48, of West Lynnwood, Washington.

They were jumping in tandem using the same parachute from a Skydive Barnstable plane operating out of Cape Cod Airfield when they struck the garage on the property across the street from the airfield, according to a statement from Cape and Islands District Attorney Michael O'Keefe's office.

The incident is being investigated by the Massachusetts State Troopers assigned to the Cape and Islands District Attorney's Office and the Aeronautics Division of the state Department of Transportation.
Just a shitty situation all around. Hopefully they figure out what went wrong so this never happens again.
photo credit hyannisnews.com
Facebook: The Real Cape
Twitter: Hippie - Insane Tony
More Articles From The Real Cape: