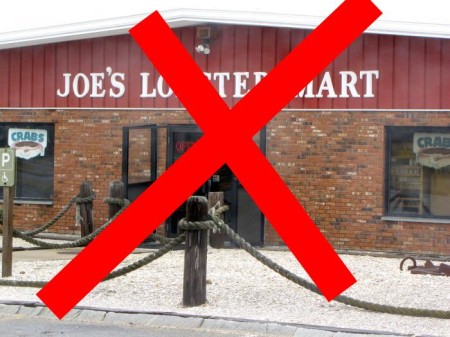 CapeNews.net – When Michael Bryant sold Joseph A. Vaudo 800 stolen oysters last October 26 at Joe's Lobster Mart in Sandwich, the transaction was nothing new, according to Mr. Bryant.

The incident led the state Department of Public Health to seek a revocation of the seafood permits held by Mr. Vaudo and Joe's. A superior court judge now is deciding whether to allow the state agency to shut down the lobster mart pending an appeal of the revocation.

Last October's incident, however, may not have been a one-time occurrence, according to court testimony.

In response to questioning at his sentencing August 1 at Barnstable Superior Court, Mr. Bryant acknowledged that he had stolen thousands of oysters last year from private shellfish and town-owned oyster grants in the mid-Cape area.
Michael A. Trudeau, first assistant district attorney for the Cape and Islands, ticked off the thefts:

• 9,000 oysters on June 15 from two private grants and a grant owned by the Town of Dennis
• 12,000 oysters on July 19 from a private grant
• Oysters worth between $7,000 and $10,000 on July 23 from a private grant
• 3,000 oysters on July 29 from a Town of Barnstable grant

Mr. Bryant proceeded to acknowledge to Judge Gary A. Nickerson, who was hearing his change of plea to guilty, that he had stolen the oysters.

"So on all these times when you stole the oysters, what did you do with the oysters?" Judge Nickerson asked.

"I sold them, sir."

"Where?"

"To Joe's Fish Market."

"On all the various occasions?"

"Yes, sir."
End the debate. Take his license, and until then STOP shopping at Joe's Lobster Mart.
All of the people that have been commenting and defending Joe's, about how we are all entitled to make mistakes and that Joe made a one time bad decision can now politely comment on this to apologize, you were all 100% wrong.
He repeatedly bought tens of thousands of oysters stolen from the public and from honest hard working Cape Codders. He sold them back to an unsuspecting public. Some of the oysters came from contaminated areas and could have posed a health risk. He completely undermined the entire local industry he was supposedly a champion and a staple of.
This guy completely fucked over the entire Cape, this was not a "mistake", this was a pre meditated criminal operation that took peoples livelihoods away from them. It could have been you, your brother, your friend. He basically stole from all of us in one way or another. Screw him, and if you still shop there, screw you too.
Facebook: The Real Cape
Twitter: Hippie - Insane Tony
More Articles From The Real Cape: