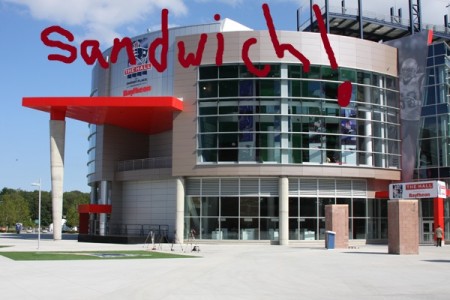 CapeCodOnline.com – A former Red Sox executive is among a group of developers proposing to build what they dub a "Mini Patriot Place," complete with two hotels and a sports-field complex, on 56 acres of town-owned land.

The bid is one of two the town received by the June 16 deadline. The other bid is from Tsakalos Realty Trust, which backed out of a $4.8 million bid to purchase the land earlier this year.

The land is located off Route 130, Cotuit Road and Quaker Meetinghouse Road. It's been called the Golden Triangle, though the town has had difficulty unloading it in three failed attempts over more than a decade.

The multi-sports complex proposes to purchase all 56 acres for $750,000, plus a $150,000 donation to the Sandwich Economic Initiative Corp. The group includes Falmouth Properties, NRG Energy Inc., Boston Global Investments and a name that will be familiar to Boston Red Sox fans, Dan Duquette. The former general manager for the Sox and current GM for the Baltimore Orioles is one of the partners with his Dan Duquette Sports Academy.

Duquette has a similar facility in Western Massachusetts that attracts youth baseball tournaments and camps.

According to the bid, the group plans to invest $150 million in two hotels with a combined 250 rooms, a field house, four baseball fields, two soccer/football fields, a multi-purpose field and several retail outlets.

The group also dangled the carrot of possibly developing a hockey rink and Olympic-sized swimming pool at the Sandwich Marina, as well as additional fields at the town's industrial park.
Well this sounds totally fucking awesome, and if you remember correctly our Real Cape fun police equation is as follows…
Totally fucking awesome + fun police = shut down immediately
Hopefully this will pass with flying colors, it would be a great addition to the renaissance of Cape Cod. It may even allow me to forgive Dan Duquette for giving Mo Vaughn that bazillion dollar contract where the Sox have to pay him to eat donuts at home up until 2042.
P.S. I know what you are asking and the answer is yes, I am available to take on freelance graphic design work. Fast turnarounds are my specialty, that Sandwich sign up there only took me three hours to design in Photoshop.
Facebook: The Real Cape
Twitter: Hippie - Insane Tony
More Articles From The Real Cape: