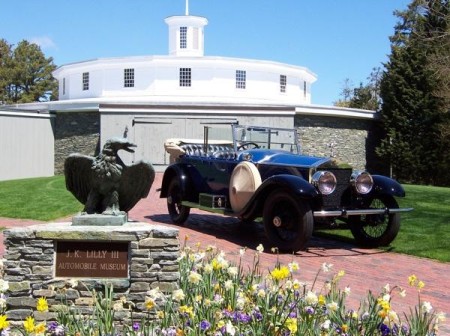 CapeCodOnline.com – A planned aerial adventure park at Heritage Museums & Gardens, complete with zip lines, has some neighbors reaching new heights of frustration.

At a meeting Wednesday night inside the Round Barn at Heritage, about 60 people, many of them neighbors, listened to Ellen Spear, president and CEO, unveil plans for reconfiguring roads near the entrance to the museum's parking lot.

But it's a suspected shift by Heritage from a cultural icon — known for its rhododendrons, art and car collection — to what some are describing as a fast-paced amusement park with the addition of the aerial adventure park that got the attention of neighbors like Don Stainbrook of nearby Faunce Mountain Road.

"None of the neighbors I've talked to want anything like that," Stainbrook, who has lived in the peaceful shadows of Heritage since 1978, said before last night's meeting. "Try to imagine the demographic that's going to be attracted to an aerial amusement park."

The adventure park, modeled after one in Bridgeport, Conn., would include zip lines, rope bridges and tree climbing attractive to children 10 and older on four acres of the 100 owned by Heritage, Spear said. The concept has been approved by the Sandwich Historic District Committee and is scheduled to open Memorial Day weekend, she said.

Heritage officials traveled to the adventure park in Connecticut, some even trying the attractions, to make sure it would be in keeping with the quiet, tranquil surroundings of the museums and gardens, Charles Robinson, chairman of the board of trustees, said.

Trees won't be taken down and none of the structures will rise above the tree line, Spear said.

Several business leaders praised Heritage, and Yvonne Anderson, who lives on Grove Street, said despite the traffic, something like the aerial adventure park is needed in town. "We don't have that many things for families to do," Anderson said.
Is it just me or is "Try to imagine the demographic that's going to be attracted to an aerial amusement park" the most pretentious, fun policey thing in the world to say? I have been "trying to imagine the demographic" all morning and all I can come up with is kids. Is Don Stainbrook just openly admitting he hates children? Or does he genuinely think that the riff raff have an affinity for aerial amusement parks? Like, does he think that street gangs like to hang around zip lines selling heroin or something?
God forbid we actually give kids something to do on Cape Cod besides drinking in the woods. The next thing you know there will be actual fun being had right here on this retirement peninsula. Hey kids, get off my lawn! (And by lawn, I mean land that's kinda near my house that I do not own)
P.S. Yvonne Anderson is officially nominated for a Real Cape logical thinker award, unfortunately we don't hand out many of them these days.
Facebook: The Real Cape
Twitter: Hippie - Insane Tony
More Articles From The Real Cape: