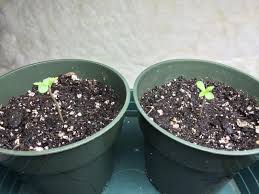 Capecodonline.com – HYANNIS — Somebody's marijuana-growing operation went up in smoke Monday evening after police found "10 small seedlings" in an apartment in Hyannis, according to Barnstable police Sgt. Kevin Tynan.

Around 7:30 p.m., police responded to the apartment after the Hyannis Fire Department notified them of the plants, Tynan said.

Barnstable police are conducting an investigation that is "not elaborate," said Tynan.
Well you can forget about getting any weed on Cape Cod for a while, It looks like the kingpin has finally been taken down!
You have to wonder if the police pulled the fire department guys aside and told them not to bug them with crap like this. I mean you have to love Sgt. Tynan's quote about how the investigation is "not elaborate", which loosely translated to layman's terms means, "we don't give a shit, there are actual criminals out there".
At this point I'm pretty sure when you rent an apartment in Hyannis it comes with ten complimentary seedlings. It's a tough market out there, landlords have to go the extra mile to avoid vacancies.
Facebook: The Real Cape
Twitter: Hippie - Insane Tony
More Articles From The Real Cape: