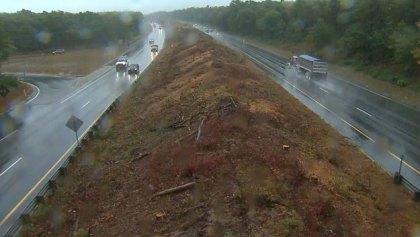 CBS – Drivers who routinely use Route 6 on the Cape have likely noticed all of the trees in a stretch of median almost all gone.
"I don't know what the concerns were with the trees but it took a lot of the beauty away," said Sagamore resident Heather Gallo. "I think it's kind of bare now."
State Representative Randy Hunt, who represents part of the Cape in the Massachusetts legislature, says he's been besieged by emails and Facebook messages from angry constituents over so many trees wiped out.
"I see no reason for mowing down perfectly healthy 30 to 40-year old trees," said Hunt.
In an email to WBZ-TV, the Massachusetts Department of Transportation said there were a number of reasons for clearing the trees, including public safety, but the project has been halted for the time being.
"And I think part of what people come down here for the Cape is the ambiance, the nature, the scenery, and it's horrific, it's absolutely horrific what they've done," said Harwich resident Chuck O'Connor.
Sons of Cape Cod! I am Hippie. And I see a whole army of my peninsulamen, here in defiance of tyranny! You have come to fight as tree men. And tree men you are! What will you do without trees on the median? Will you fight?
Fight and you may die. Run and you will live at least awhile. And dying in your bed many years from now, would you be willing to trade all the days from this day to that for one chance, just one chance, to come back here as young men and tell the Mass DOT that they may take our trees, but they will never take… our freedom!
Facebook: The Real Cape
Twitter: Hippie - Insane Tony