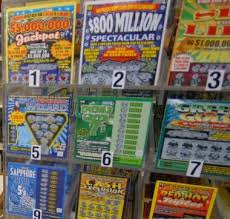 Capecodonline.com – MASHPEE – A 32-year-old gas station manager was arraigned Friday on charges that he stole nearly $40,000 worth of scratch tickets from his store and cashed them in for lottery winnings at nearby supermarkets, according to court records.

Alexander J. Klopfer, of 60 Forest Drive, is charged with larceny by a single scheme and uttering or possessing false lottery tickets. He pleaded not guilty in Falmouth District Court.

The Mashpee police investigation began in early November and ended a month later with police issuing a criminal complaint, according to court documents

Klopfer allegedly was caught on surveillance video activating batches of scratch tickets at Alltown Mobil in Mashpee and then placing them under his jacket, the records show. Tickets ranged in price from $1 to $20.
Cape Cod criminals continue to amaze me with their ineptitude. Theft is theft, so if you are going to steal a scratch ticket, why steal a $1 scratch ticket? It's not like stealing a $20 ticket carries a heftier charge and you've already crossed the deviant line into criminal activity so what's the point? It would be like robbing a bank and asking for only small bills. You gotta go $20 every time in that situation.
The best part of this caper is that if you are the manager of a store, how do you get caught on the security cameras? You know exactly where they are. Did this guy convince himself that he is somehow invisible? Might as well shoot a documentary while your at it dumb ass. I'm surprised this genius wasn't Instagramming pics of his winning tickets and checking into lottery headquarters on Foursquare.
I think it might be time to start up a Cape Cod criminal Hall of Fame, nobody's criminals are more entertaining than ours.
Facebook: The Real Cape
Twitter: Hippie - Insane Tony
More Articles From The Real Cape: