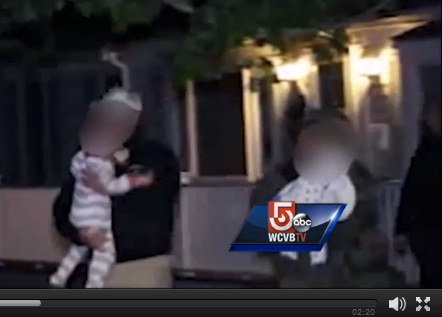 WCVB – A Mashpee man charged with holding his girlfriend and her two sons hostage inside her Hyannis home early Saturday offered to trade the children for heroin, according to court records cited by the Cape Cod Times.

Ciera Taylor, 19, said Matthew Sweeney, 22, held her sons, 2 years old and 6 months old, at knifepoint for hours after a physical altercation. Taylor said she managed to text a friend, who then called police.

Sweeney told arriving police officers that he was starting to get "dope sick" and he didn't know what he would do if that happened, and then offered to trade one of the children for heroin, court records said.

As SWAT team negotiators worked to resolve the standoff, Sweeney exchanged more than 50 text messages with Taylor, who begged him to release her children to police.

"I need two grams of dope or say goodbye to (the 2-year-old) i love how u guys would rather this kid get hurt then give up some of your drugs," read one of the text messages from Sweeney, which Taylor released to the Cape Cod Times.
"I need two grams of dope or say goodbye to (the 2-year old)?"
Kill him. No arraignment, no trial, tie him to a post on Main St. and stone him to death. I don't care how many angry emails I get from this about addiction and how it changes people. I don't care how sick you are about to get, if you can threaten to kill a 2 year old child unless someone gives you dope, then you aren't just an addict, you are rotten to the core and there is no hope for you.
Think about this for a second. Think about holding a 2 year old and 6 month old by knifepoint and threatening to kill them. When normal people hold babies they turn to mush and start making ridiculous noises because they are so overcome with joy. This motherfucker stuck a knife in their faces and used them as a bartering chip for "2 grams of dope". Fuck him, he may be an addict but he's also a sociopath, kill him. End of story.
h/t RPV
Facebook: The Real Cape
Twitter: Hippie - Insane Tony