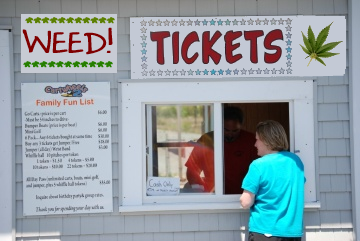 Click here for the full story – BOURNE – On the heels of last month's rejection of a yearlong moratorium, Bourne has its first suitor for a medical marijuana dispensary.

The Kingsbury Group, a nonprofit based on the Cape and Martha's Vineyard, has approached the town about turning the Cartwheels 2 family fun center into one of the first licensed dispensaries in the state.

The 340 MacArthur Blvd. facility, which claims to have the largest go-kart track on Cape Cod, is owned by Brewster resident J. Bruce MacGregor, a member of the Kingsbury Group.
Holy shit! Holy shit! Holy Shit! Fuck yes! Oh Please, pretty please! Let this happen! Please put a dispensary at Carwheels 2!
Her first thought went to MacArthur Boulevard, a main artery already occupied with industry. The only potential obstacle she foresaw was Cartwheels 2, where she was concerned that crowds of children would be drawn too close to medical marijuana if a dispensary moved in down the street.

"I guess it couldn't be a go-kart property anymore, because you can't have a dispensary next to kids," Moore said.

"If they no longer have that use there, I can't think of anything that would be around it off the top of my head that would prevent a dispensary from being there," Moore said.
Noooooooooooooooo……. Damn it. I guess we had to know that was coming.
Why can't we live in a country that would allow this to happen? Imagine for a moment a marijuana dispensary attached to an arcade and surrounded by mini golf, batting cages, bumper boats and go-karts. It's just too perfect. It would literally be the most fun place in the Universe. It would immediately put Cape Cod back on the map as a global destination. Screw Disney and forget Six Flags we have an amusement park where the kids can play AND THE ADULTS CAN GET HIGH AND PLAY WITH THEM!
Everyone would be on the same level, smoke some sour diesel and suddenly you and your 8 year old are going hit for hit in the batting cages on low speed. Vaporize a little AK-47 and mini golf is actually competitive with your 4 year old. Do a bong rip of some bubble hash and get lapped sixteen times by your 12 year old on the go-kart track because you are doing 3 miles per hour!
But no, we have to live in a stupid no fun country that won't even let us put our weed stores inside children's parks. So lame.
Facebook: The Real Cape
Twitter: Hippie - Insane Tony