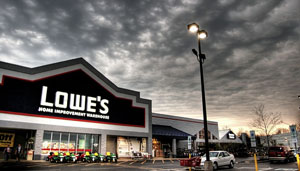 Capecodtoday.com – The Cape Cod Commission put the final nail in the coffin for the Lowe's project in Dennis Thursday. According to its website, the commission accepted the subcommittee recommendation to deny the project.

Lowe's had pitched a plan to build a home improvement store in South Dennis, just off Route 134 on Theophilis Smith Road. Shortly after the pitch, YES and NO to Lowe's signs sprouted up on lawns all over Dennis.
We weren't going to bother opining on this story because we figured it would be pretty obvious where The Real Cape stands on it. Apparently it's not as obvious as we thought because everybody and their uncle is sending it to us. So here it is…
Of course we agree with it, fuck Lowe's. I'd vote for a mayor of Cape Cod who's first order of business would be to ban all national chains and then kick out all the ones that are already here. You ever drive through New Jersey? Every single town looks EXACTLY the same. It is a soulless wasteland of Applebee's and TGIF's. If you want to shop for crappy twisted lumber and eat cardboard egg rolls with mystery meat in them then pack your shit and move to Trenton.
Keep it local and save our culture is what I say. I think I may have just written the campaign slogan for whoever runs against the Fun Police Party for mayor. Don't Jersey The Cape!
Facebook: The Real Cape
Twitter: Hippie - Insane Tony