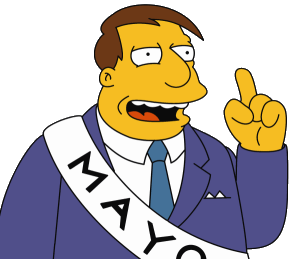 Capecodonline.com – BARNSTABLE — In the end, the small towns narrowly won the day over the region's largest towns in the battle over the future of county government on Cape Cod.

After more than two years of debate over potential changes to Cape Cod's regional government, the county Assembly of Delegates voted at its regular meeting Wednesday against eliminating itself in favor of a council elected from 11 evenly populated districts.

The assembly voted to table a separate proposal from the charter review committee to eliminate the three-member Board of County Commissioners in favor of a single, elected executive, commonly referred to as a "mayor" for the Cape.
Well it looks like we won't be getting a Mayor anytime soon. I have to admit I'm kinda bummed. A mayor of Cape Cod would provide us with endless material to make fun of. I may even have run myself, Hippie for mayor kinda has a nice ring to it no?
I think we just might need to hold our own campaign. Imagine the freaks that would come out of the woodwork for a Real Cape mayoral election? We could have mandatory drinking at the debates, talent contests for the candidates, mud wrestling at Zachary's…  Hmmm….
Facebook: The Real Cape
Twitter: Hippie - Insane Tony
More Articles From The Real Cape: