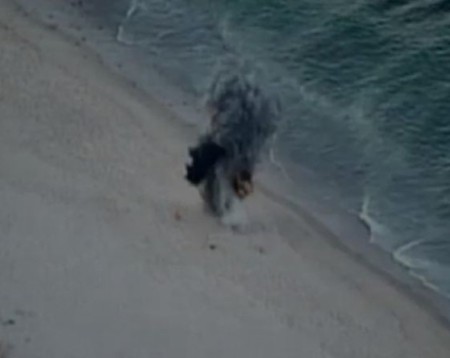 foxnews.com – A live World War II military round has been destroyed after it was found on a popular Cape Cod beach.

A fisherman discovered the device in the sand at Marconi Beach in Wellfleet, Mass., at about 3 p.m. Wednesday and alerted authorities.

The state police bomb squad responded, and the 14-inch projectile was blown up on the beach at about 7 p.m.

Officials kept curious spectators about 1,000 feet away from the explosion to protect them from shrapnel.

Sgt. Jerry Galizio of the Massachusetts State Police bomb squad told the Cape Cod Times that the military used area beaches as practice ranges during World War II, and it's not uncommon for ordnance to be found even to this day.

Galizio said the color of the smoke indicated the military projectile was live when it was detonated because the explosives the bomb squad use typically create white smoke, according to the newspaper.
So a live projectile was found on a Cape Cod beach. The beach was never closed, officials just made sure to keep people away from the bomb sitting in the sand. Then they blew up the explosive and everything went back to normal.
Please allow me to re cap the last few days. Yesterday, we learned that they have shut down and padlocked South Cape Beach because they found out people have been partying there. Today we find out that there are WWII explosives in the sand on Marconi beach and the place didn't close for one minute.
I guess what we can deduce is that the powers that be on Cape Cod think that beer and music is more dangerous than live explosives. Seems legit.
Facebook: The Real Cape
Twitter: Hippie - Insane Tony
More Articles From The Real Cape: