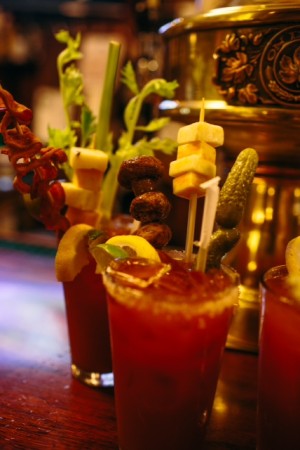 So last Sunday I was watching the road race and I started twitching. I couldn't figure out what the problem was, and then I remembered. It was my body telling me that it was time for a cucumber Bloody Mary with two strips of bacon and a tornado potato and cheese skewer. So now it's been almost a full two weeks since the nectar of the gods has entered my system and can feel myself weakening. I'm pretty sure there is only on thing that can cure what ails me. That's right, tomorrow I am all in at Liam Maguire's. It is going to be The Great esCape all the way…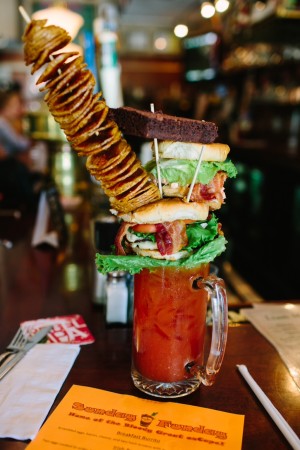 As usual, you can build them exactly to your taste with about a bazillion different options while you listen to some chill acoustic music from The Silent Trees from 11:30 a.m. – 3 p.m. this Sunday at Liam's on Main St. in Falmouth. It really has turned into THE spot to be to start your Sunday Funday. The crowd is always in a great mood and there's no better way to get the cobwebs out of your head, especially after all the weekend festivities you are sure to partake in.
No worries if you don't like Bloody's, there's plenty of other great stuff to choose from and the brunch menu is deee-lish! I've had everything on it at this point and there is no bad choice. Here's the menus…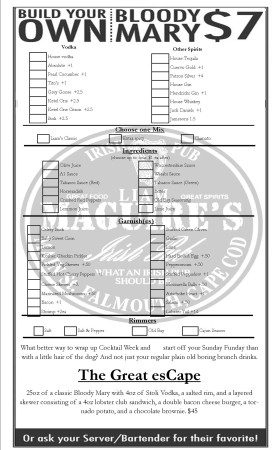 Sunday Brunch
Breakfast Burrito
Scrambled eggs, bacon, cheese, and two hash browns with an avocado chipotle aioli.
Irish Breakfast
Two eggs cooked to order, two rashers, two bangers, black and white pudding, home fries, and a fried tomato. Served with brown bread.
Crab cakes Eggs Benedict
Two English muffins topped with jumbo crab cakes, Irish bacon, poached eggs and our own homemade hollandaisesauce. Served with home fries.
French Toast
Three slices of thick cut Sourdough bread dipped in our own cinnamon French toast batter. Served with a side fresh fruit.
Chicken & Waffles
Habanero Guinness waffles with two fried chicken breasts, smothered in Southern style white gravy, made with our own bangers. Served with REAL New England Maple syrup and pickled vegetables.
Facebook: The Real Cape
Twitter: Hippie - Insane Tony