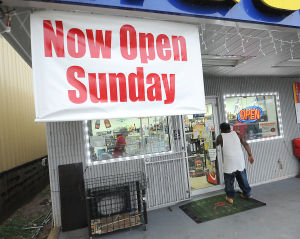 CapeCodToday.com – Game-day football tailgaters and other weekend event planners in Massachusetts would be able to buy beer and alcoholic beverages on Sunday morning rather than waiting until noon, under legislation that has cleared the Massachusetts House.

On voice vote and without debate, the House last Wednesday approved a bill (H 228) that would legalize Sunday morning alcohol sales starting at 10 a.m. – two hours earlier than allowed under current law.
Well it's about freaking time. I was starting to wonder if I'd ever be able to get drunk before noon on a Sunday around here. Blue Laws have to be the most ridiculous relic going right? I mean how dumb is it that we still let a blue eyed white dude from The Middle East ruin our Football days 2000 years later? It's almost as absurd as us thinking a guy from The Middle East 2000 years ago was white with blue eyes in the first place.
The only thing worse is that we still celebrate Thanksgiving Day with food, family and chained off liquor. We are months from being able to buy weed at a store, I think it's about time we were able to buy some booze on Jared Leto's birthday. Or whatever the hell December 25th is.
Facebook: The Real Cape
Twitter: Hippie - Insane Tony