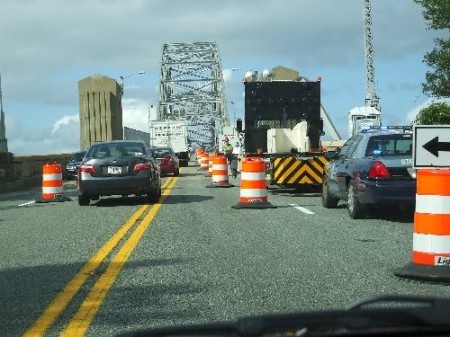 CCT – It will be smooth sailing across the Sagamore next week for the Thanksgiving holiday. According to a US Army Corps. of Engineers release all lanes on both the Sagamore Bridge and the Bourne Bridge will be open to motorists from Wednesday, November 26 through Sunday, November 30.

Travel lane restrictions will be back in effect on the Sagamore on Monday, December 1.
Smooth Sailing? People of Cape Cod rejoice!
Isn't it such a nice treat for us to actually have two whole lanes onto Cape Cod on the busiest travel days of the year? I don't know about you, but I feel truly blessed by this holiday miracle. It almost took my mind off of the fact that it's taking them longer to paint this bridge in the year 2014 than it did for them to build it in the 1930's.
So yeah, thanks for being so gracious and allowing taxpayers to actually use their bridge for a few days, we'd get you a cookie or something but we're kinda broke from living in Taxachusetts.
Facebook: The Real Cape
Twitter: Hippie - Insane Tony