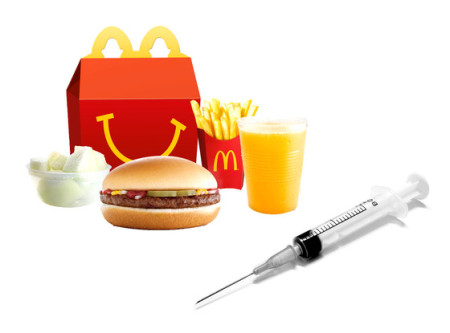 (CNN) — A McDonald's employee in Pittsburgh was arrested Wednesday after undercover police officers said they discovered her selling heroin in Happy Meal boxes, according to a criminal complaint.

Shantia Dennis, 26, was arrested after undercover law enforcement officials conducted a drug buy, according to a statement from Mike Manko, communications director for the Allegheny County District Attorney's Office.

Customers looking for heroin were instructed to go through the drive-through and say, "I'd like to order a toy." The customer would then be told to proceed to the first window, where they would be handed a Happy Meal box containing heroin, Manko said.
Can you imagine how much money someone would make selling $82 Happy Meals filled with heroin on Cape Cod? The Drive Thru line would be 18 miles long. Although the more I think about it I guess it wouldn't really change much. I'm pretty sure it's already just as easy to get heroin on The Cape as it is to get a cheeseburger.
P.S. If you are reading this and you are currently on heroin, stop for a bit. Go to a methadone clinic or get some pills or something. I read about Cape Cod all day and all I've been reading lately is that there is bad stuff out there, people are dropping like flies. Don't be next.
Facebook: The Real Cape
Twitter: Hippie - Insane Tony