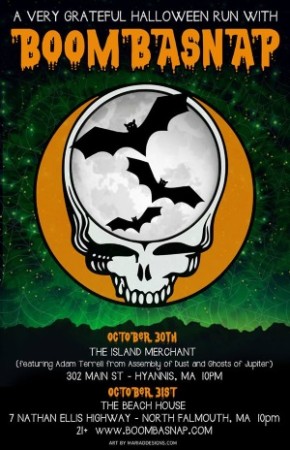 The Beach House is getting in the Halloween Spirit. Bring your kiddos in their costumes and they get a free kids meal… Wait WHAT!?!?!?
Yep… The Beach House will feed your kids for free and all you need to do is throw a sheet over them with 2 eyes and a mouth cut out. BOOM… Free kids meal!!! Send the kids to the Game Room and get a little quiet time with your cocktail. When it's time to send the kids home stick around for The 4th Annual Boombasnap Halloween Bash. The boys have a special Grateful Dead set planned.
There's even cash prizes for Best Costume and Sexxiest Costume! I'll be there giving away tickets to our Wailers 30th Anniversary of The Legend Album Show 12/4 at Pufferbellies at Set Break. As it's been said before there Ain't No Party Like A Beach House Party! Come see for yourself.
Saturday Syndicate is back to melt faces and Sunday they're throwing a tailgate party that is always a good time. DJ Alvzie will be there spinning tunes and doing trivia between commercials and giving prizes away. 25 cent wings and a pizza buffet at halftime. If you haven't had Beach House pizza you haven't lived. See you this weekend!
Facebook: The Real Cape
Twitter: Hippie - Insane Tony
More Articles From The Real Cape: