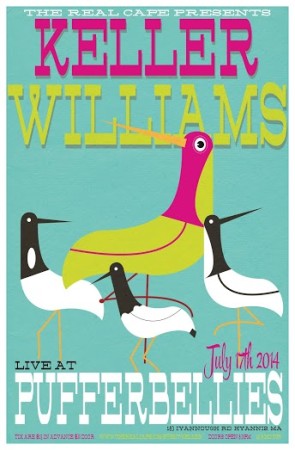 Our Keller Williams show is coming up soon and we've got a few developments to share. First off we are excited to announce that we are teaming up with Naukabout Beer. The guys from Naukabout will be there with samples of their two newest brews, White Cap IPA and Lighthouse Ale. These two beers are so new you can't even get them yet, that's just how we roll.
We will be giving out free The Real Cape and Naukabout swag throughout the night, and as always the fun police will be nowhere in sight. The Real Cape and Naukabout together? Who knows what will happen at a RealNauk party!?
But wait! I am sure some of you are saying, but Hippie, what about Moe playing that same night at The Melody Tent? Don't worry we have you covered. We talked to Keller and he's going to go on at 10 p.m. which will give everyone time to get from the Moe show to Pufferbellies. It is 1.6 miles away. Oh wait, There will be a Keller show immediately following a Moe show only 1.6 miles down the road? Yes, but there's more. Even though day of tickets will be $20, if you show your Moe ticket at the door to the Keller show you will be given the tix at the $15 pre sale price.
It's Keller Williams on Cape Cod. It's $15 if you buy the tickets in advance. We are putting our money where our mouth is and taking back Cape Cod. And we are doing it as cheaply as possible for you. I'd say find one of us and buy us a beer but we think of everything. Naukabout is taking care of that for you. It's the no brainer to end all no brainers!
Facebook: The Real Cape
Twitter: Hippie - Insane Tony
More Articles From The Real Cape: