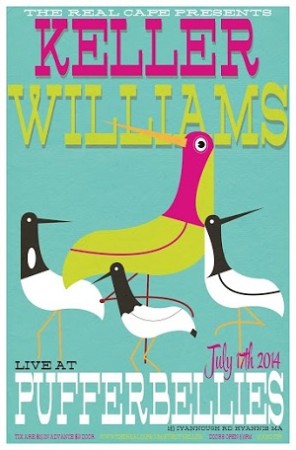 1 day until our Keller Williams show at Pufferbellies in Hyannis! For any of you that are going to Moe at the Melody Tent we've got you covered. Keller is going on at 10 so you won't miss out. Pufferbellies is only 1.6 miles away, so this will be an EPIC night out on The Cape for you folks.
The Keller show is 18+. Who says there is nothing to do on Cape Cod unless you're 21? The entire Real Cape team will be there and we'll be giving away all kinds of goodies throughout the night. The guys from Naukabout Beer will be there as well with samples of their newest brews and all kinds of other free swag.
Keller announced the show on his Facebook page today so tickets are moving fast. Make sure to get yours in advance to make sure you don't miss out on what is certainly going to be one of the best nights of the summer. This is going to be one hell of a party!
Facebook: The Real Cape
Twitter: Hippie - Insane Tony
More Articles From The Real Cape: