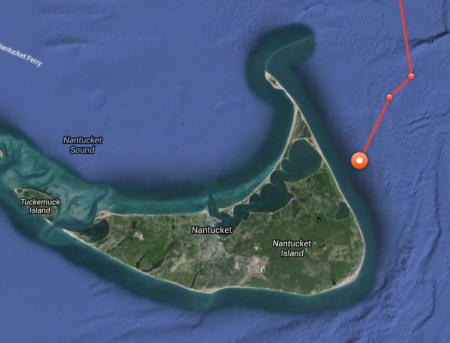 At this point I feel like Katharine is a family member. We have all been through so much together, the highs, the lows, it really has been a whirlwind relationship since she showed up on our shores a few weeks ago.
For a while I thought Katharine the shark was stalking me, then we realized she was a friendly reggae shark and just wanted tickets to The Wailers show. After that we came to the conclusion that she was in love and was getting her freak on all over the Cape.
Now our girl seems to have taken off to Nantucket for the weekend. Ah, young love, you have to appreciate the spontaneity of it. I don't know if this is goodbye for the season, or if it's just a weekend getaway, but I do know this…
Kate, we got off to a rocky start, and you may be a vicious, killing machine, but god damn it you're our vicious, killing machine. You were tagged here, you smoked your first joint here, you lost your virginity here. You are Kate the Cape Cod Great and we love you now and forever. You get out there and see what the world has to offer, just make sure you come back and visit your Cape family now and again, deal?
The Timeline…
Facebook: The Real Cape
Twitter: Hippie - Insane Tony
More Articles From The Real Cape: