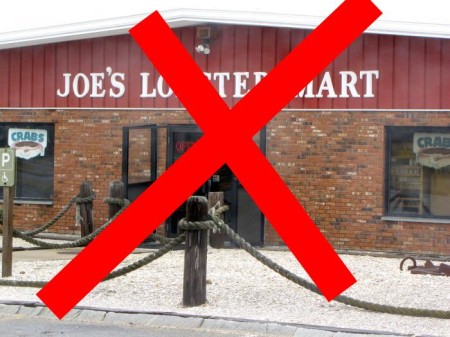 CapeCodOnline.com – Joe's Lobster Mart has less than two weeks to sell off the lobster, fish and other stock before closing the doors.

Suffolk Superior Court Judge Thomas Connors denied owner Joseph Vaudo's request for a preliminary injunction against the state Department of Public Health, which revoked Vaudo's licenses to sell fish and shellfish at the Cape Cod Canal warehouse.

In his decision, Connors found that Vaudo and his attorney failed to demonstrate likelihood they would be successful in appealing the state's ruling to revoke the licenses.

The state Department of Public Health issued a notice of intent to revoke Vaudo's licenses April 15, just a couple of weeks after he pleaded guilty in Barnstable District Court to charges of receiving stolen oysters and failing to keep proper shellfish records.
Ding, Dong, the witch is dead! Or at least its been given 14 days to live… until the appeal… whatever, it's better than nothing. It looks like the thief's testimony that this was not a "one time" incident has sealed Joe's fate, and rightfully so.
For those of you who think Joe is getting a raw deal, I'll just say this. Besides all of the moral and social codes he has broken and on top of the public health risk he created, the man facilitated grand larceny and bought tens of thousand of dollars of hard working Cape people's stolen goods. If it had been cars or jewelry instead of oysters, the man would probably be going to jail.
There will be one more chapter in this saga when the appeal is heard, but until then stay strong and stay away from Joe's. I don't care what kind of fire sale they have, it is our duty as Cape Codders to let every last piece of fish sit there and rot for the next 14 days.
Facebook: The Real Cape
Twitter: Hippie - Insane Tony