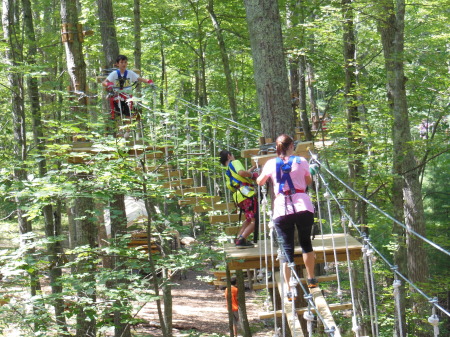 CapeCodTimes.com – Heritage Museums & Gardens will not face criminal charges related to the building permit issued for its zip line park.

The clerk-magistrate in Barnstable District Court has decided not to issue a criminal complaint in the case brought by Carlo DiPersio and Don Stainbrook, two neighbors of Heritage, according to a copy of his decision.

DiPersio and Stainbrook sought the complaint under the Old King's Highway Regional Historic District law that sets up protection for the areas north of Route 6 from Sandwich to Orleans. The allegation was that Heritage moved the location of two buildings after a certificate of appropriateness was issued by the Old King's Highway Historic District Committee in Sandwich.

The clerk issued a ruling dated June 4, two days after a hearing, saying "complaint denied as to all counts."
Well, it's nice to see that there's still a shred of sanity around here. It really is good to know we live in a place where people that build a park where kids can have wholesome outdoor fun won't get thrown in the slammer. Of course you'll still have to waste hundreds of hours defending yourself against two wackos at every committee, department, and court on Cape Cod if you dare to give teenager's an alternative to doing drugs, but hey, Heritage should have known they'd be in for a fight when they decided to build an outdoor park that attracts people, creates jobs, keeps kids off the streets, and is… GASP… fun. Facing criminal charges is a totally normal part or zip line construction everywhere right?
P.S. If Carlo DiPersio and Don Stainbrook can file criminal charges against Heritage for building an outdoor park, we should be able to file charges against them for hating kids, fun, and life in general.
Facebook: The Real Cape
Twitter: Hippie - Insane Tony