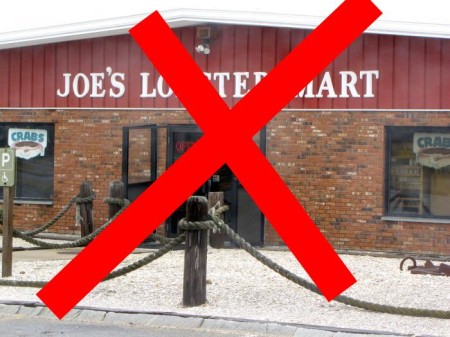 CapeCodOnline.com – You'll be able to buy lobsters, oysters and swordfish at Joe's Lobster Mart for at least a couple more days.

John Kiernan, an attorney for Joseph Vaudo, the shop's owner, said he filed for and received a temporary restraining order Friday night.

The state Department of Public Health issued a cease and desist order Friday and a decision to revoke the fish dealer's licenses to buy and sell fish, prompted by his March conviction for receiving stolen oysters.

The DPH ruling was made by Commissioner Cheryl Bartlett, one month after a Sept. 4 hearing before the state Division of Administrative Law Appeals. Joe's Lobster Mart has remained open since DPH first moved to revoke the licenses in April.

The state agency began the proceedings to revoke his licenses just weeks after Vaudo pleaded guilty in Barnstable District Court to receiving stolen oysters in his market. He was ordered to pay a $6,250 fine for admitting guilt to that and other charges.

State health officials were unmoved at last month's hearing saying Vaudo showed no remorse for the transaction that led to his guilty plea in March in Barnstable District Court. Vaudo purchased oysters stolen by Michael Bryant from Yarmouth shellfish beds. Police had Bryant, a suspect later convicted in a string of oyster thefts in the summer of 2013, under surveillance.

Vaudo had argued there was no public health threat because he dumped the oysters in the Cape Cod Canal.

On Saturday, customers flowed in and out of the market's front door, where a "Help Wanted" sign hung.
So to re cap this situation. The guy was convicted of receiving stolen oysters in March, undermining every honest shellfisherman, his customers, oyster farms, his community, and public health with no remorse whatsoever. Then the Department of Public Health moved to revoke his license in April, finally doing so over a month ago, yet Joe's Lobster Mart is still open, thriving, and apparently hiring? Seems about right.
We called for an all out boycott of Joe's in THIS POST back in April. That post garnered 2,700 likes so I'm pretty sure quite a few people agreed with us when we said…
"Vaudo on the other hand fucked over the very community that supports his business. Honest hard working people are working their ass off to provide him with the shellfish that he sells to other honest hard working people under the pretense that he is buying them from the honest hard working people in their community. Joe's Lobster Mart buying stolen shellfish at a discount and selling them at regular prices is offensive on many, many levels.

Unfortunately Joe's Lobster Mart will probably survive because of the money he makes from tourists who will never know and probably don't care about this story. Even though this may be the case, there is no excuse for any year round resident to ever do business with this man again. We are calling for a full on boycott of Joe's. Please share this, spread the word about this guy and BOYCOTT JOE'S LOBSTER MART! Let's show Cape Cod business people they can't fuck over the communities they do business in without repercussions."
The bottom line is that Joe's Lobster Mart still being open is just an example of bureaucracy failing again. Violating your communities trust this deeply and exposing yourself as a dishonest person who doesn't care about supporting the very industry that you make your living from is inexcusable. Knowingly exposing the people in your community to a health risk is unforgivable.
The government may not have the balls to do anything about it but we can, if you are a resident of Cape Cod and you shop at Joe's Lobster Mart then you are part of the problem, you might as well cut through the middle man and just steal shit straight from your neighbor and inject red tide into their kids eyeballs. Stop shopping there, now.
P.S. If you believe that Joe threw the oysters that he went through the trouble of purchasing on the black market into the Canal then I have some nice property in Florida I'll sell you cheap.
Facebook: The Real Cape
Twitter: Hippie - Insane Tony
More Articles From The Real Cape: