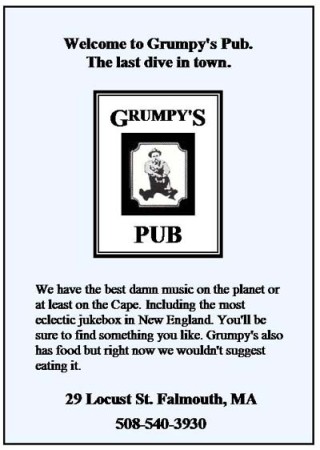 Congratulations Grumpy's Pub on your 2014 Cape Cod Dive Bar Tournament Championship!
This thing has garnered a response we couldn't have imagined. There were well over 100,000 votes cast over the life of The Cape Cod Dive Bar Tournament. People have been happy, people have been pissed, but we've always said, love it or hate it, as long as you are reacting to it we are doing something right.
Some people bitched that Grumpy's was actively sharing this to their Facebook page which would result in a lot of votes quickly. Well, newsflash, most of the bars in this tournament were doing the same thing. We didn't make that against the rules on purpose, this is for fun, we want people involved. If you don't have anything better to do than bitch about a good natured friendly competition, then nobody wants to have a beer with you anyway.
Many bars could have won this thing and would have deserved it, but not a one of them deserves it any more than Grumpy's. The place is legit legendary on The Upper Cape. No joke, I have been drinking there since I was 17 years old. Things like that don't happen anymore, but as divey as it is now, it was downright despicable back in the day.
So a huge congrats to Grumpy's, we are in talks with them now for when we will have the celebration party and trophy presentation and we will keep you posted. Also we will be tallying the total votes per town to decide which bars will be on our Cape wide school bus dive bar crawl. We will let you know as soon as we know.
Thanks to all of you! We are pretty sure it's safe to say that this has been the most thorough Cape Cod dive bar tournament in history. (yeah probably the only one too, whatever) Until 2015 everyone!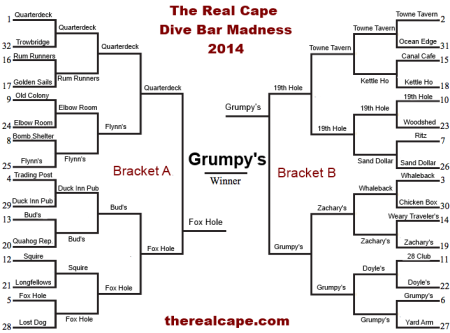 Facebook: The Real Cape
Twitter: Hippie - Insane Tony