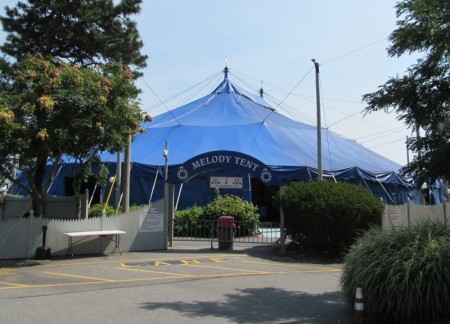 The Cape Cod Melody Tent has been nominated for Small Venue of the Year by The Academy of Country Music Awards. The awards ceremony is April 6th at The Mandalay Bay Events Center in lovely city of Las Vegas. Hosted by Blake Shelton and Luke Bryan, and performances by the top names in Country music. The Tent is up against some heavy hitters in the big world of small venues, such as Boston's House of Blues; American Music Theatre of Lancaster, Pa.; Georgia Theatre of Athens, Ga.; and the Moody Theater of Austin, Texas. I think the Tent is a 12 point underdog last time I checked. Let's just say the Tent are the '01 Patriots and the others are the '01 Rams. Can you say upset city.
I am not gonna sit here and act like I know a damn  thing about today's country music. Give me Johnny Cash and Waylon Jennings any day over,over,over, ya I got no names off the top of my head of todays country stars. Good thing this isn't an article about country music. This is about our live music gem snuggled on the streets on Hy-Town.
I have seen many shows at this hot spot. From Ziggy Marley to Buddy Guy, and of course the Beach Boys the shows here are intimate and not a bad seat in the house. They cover all the bases at this joint,  from music to wrestling and boxing and throw in kid's plays and Chowda contest, they do it all.  We are so lucky to have this nominated place in our backyard, you need to take advantage.
Tabbed as Country Music's party of the year, we here are wondering if our passes got lost in the mail? Not sure if The ACMA knows if they really want to have the party of the year, you need The Real Cape there. Also I hope The Melody tent is listening, The Real Cape+The Cape Cod Melody Tent= Pure Party Time.  So GOOD LUCK to the Tent, bring home some more hardware for The Mother Land.
Editors note: Never heard of Umphrey's McGee? Look them up right now.
Facebook: The Real Cape
Twitter: Hippie - Insane Tony
More Articles From The Real Cape: