Follow Insane Tony on Twitter
When you put the word funk in your name you better be able to get the crowd moving. This is exactly what Funktapuss does every show.
This cape based 5 piece band is a touring machine. They also keep their roots tied down here at the center of the universe, with many local shows and an open mic and jam at The House of Buds in Hy-Town. near their roots where members of the band meet at Barnstable high.
All 5 members have deep backgrounds in music and performing. a few names they have studied under or played with are Susan Tedeschi, Derek Trucks,Victor Wooten, and Zack Deputy. Three members toured nationally with Deputy recently as his backing band.
Funktapuss is made up of Brian"Beek" Vanderbeek, Ryan Tivey, Chris Santos, Latez, and Tom Davis. This group of funking guys will get your booty moving no matter what mood you are in. From the bars to the festivals be sure to make time to get some puss. Funktapuss that is.
Keep up with Funktapuss by following them on Twitter, liking them on Facebook or visiting their website.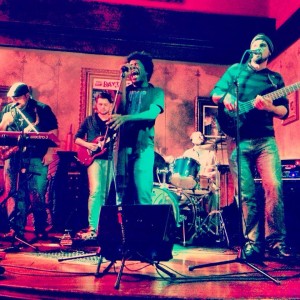 Facebook: The Real Cape
Twitter: Hippie - Insane Tony
More Articles From The Real Cape: