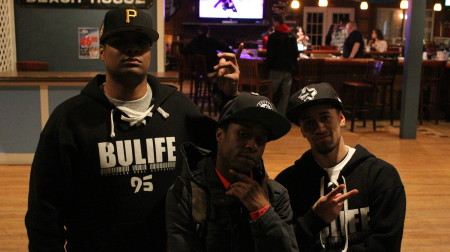 Waking up with your head in a fog, just your underwear and one sock on, and of course only one contact in. Sounds like a typical morning for most cape codders in the summer. For this to be the outcome of a night in March it better have been a great night.
We here at The Real Cape sponsored our first concert on the 14th at The Beach House and this was definitely one of those great nights. Mighty Ceej and The Bulife both performed but the night started out with a DJ set by Ceej who got the dance party started right by spinning some old school hip hop jams. After Ceej DJ Minor kept everyones moving with a set of his own.
So with the it early in the night still and already 2 great DJ sets in the book, Ceej hit the stage with Ahlayda. If you have never seen Ceej perform be sure to check him out next time he is in your area. The energy he puts in to his shows reveals the love and passion he has for hip hop music.
On stage next was the guys from the tip of the map – The Bulife. Having never seen these guys perform live , I had no idea what to expect and they didn't disappoint one bit. The chemistry they have as a group is like family…. oh hold on they are in fact cousins. You can definitely see the love these guys have for hip hop come through in their music and performance.
Things get pretty blurry near the end on the night… but I can tell you this, between the guys in Bulife and Ceej , you don't get much better all around people than these guys. They all live and breathe the Cape life and this thing I call "Cape Hop". I wanna thank these guys for coming out and performing and big thanks to Pat and his staff at The Beach House for giving us a place to do our thing.
GET OUT AND SUPPORT LIVE MUSIC!
Facebook: The Real Cape
Twitter: Hippie - Insane Tony