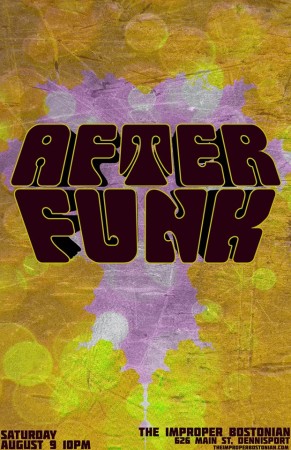 There are a few shows coming up in Dennis Port at the Improper Bostonian that will leave you dripping the funk for weeks. This Saturday August 9th, they've got After Funk lined up. I don't like to start rumors, but I've heard that After Funk are so funky that people have actually been known to OD on the funk at their shows. Here's a little teaser from their site:
After Funk has quickly grown into a powerful eight member modern jam-orchestra that will shake your heart in your chest and your butt on the dance floor.

Taking its cues from old school funk acts like Stevie Wonder and James Brown, modern jam bands like Lettuce and the String Cheese Incident, even hints of the romantic classical music of Tchaikovsky and gospel music of Tye Tribbit, After Funk has found itself an ever growing audience of people searching for a heavy groove that expands their mind and fills their soul.
It's going to take you weeks to get the funk out after the After Funk, but right when you do the Improper is going to hit you right back upside the head with Yo Mama's Big Fat Booty Band on August 31st.
What better way to end your summer than with some down home, finger lickin', straight nasty funk? Just a little hint: I'd get your tickets in advance for that one, it's going to be a barn burner.
Facebook: The Real Cape
Twitter: Hippie - Insane Tony
More Articles From The Real Cape: