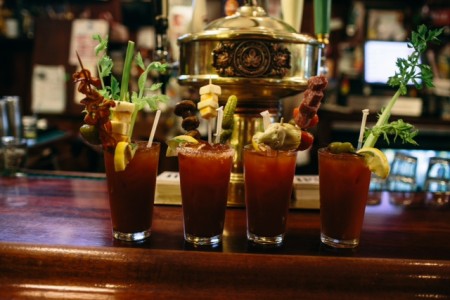 So now I'm at the point where I'm already thinking about Liam Maguire's Sunday Funday Build Your Own Bloody Mary Brunch on Saturday night. Last week Mrs. Hippie and I sat at the bar because we were only going to stop by for a quick one. About 4 hours, 58 strips of bacon, 27 cheese skewers, 14 shrimp, 8 pickled vegetables and a lobster tail later we decided we had to either leave or legally change our last name to Maguire.
Don't take my word for it though, the average reaction from every person around us when their Bloody Marys arrived at their table was, "Oh. My. God. Look at this thing!". "Stone Cold" Steve was sitting next to us for a while and ordered The Great esCape. I am 100% serious when I say that at least 10 people left their tables to come over and take pictures of the thing. It is INSANE…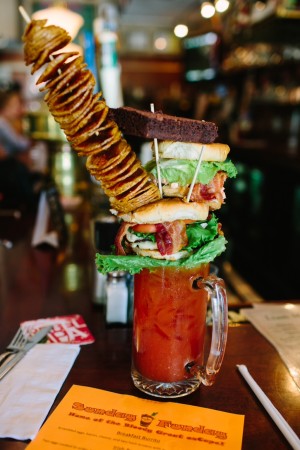 In case you've been living under a rock and don't know what I am talking about, that monstrosity up there is a Bloody Mary from Liam Maguire's on Main St. in Falmouth. They do a Sunday Funday Build Your Own Bloody Mary Lunch that is out of this world. It starts at 12 noon with some nice, chill acoustic music from The Silent Trees and goes until 3 p.m. Check out this build your own Bloody Mary menu, you can literally order them in hundreds of configurations, and they have a killer food menu as well.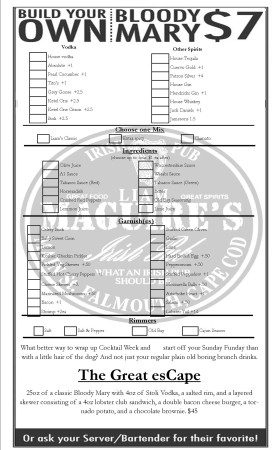 Sunday Brunch
Breakfast Burrito
Scrambled eggs, bacon, cheese, and two hash browns with an avocado chipotle aioli.
Irish Breakfast
Two eggs cooked to order, two rashers, two bangers, black and white pudding, home fries, and a fried tomato. Served with brown bread.
Crab cakes Eggs Benedict
Two English muffins topped with jumbo crab cakes, Irish bacon, poached eggs and our own homemade hollandaisesauce. Served with home fries.
French Toast
Three slices of thick cut Sourdough bread dipped in our own cinnamon French toast batter. Served with a side fresh fruit.
Chicken & Waffles
Habanero Guinness waffles with two fried chicken breasts, smothered in Southern style white gravy, made with our own bangers. Served with REAL New England Maple syrup and pickled vegetables.
P.S. I know you are all on the edge of your seats because I told you I was going to get cucumber vodka in my Bloody last week. So here are the official results of last weeks test… cucumber vodka and Bloody Marys are like peas and carrots!
Facebook: The Real Cape
Twitter: Hippie - Insane Tony
More Articles From The Real Cape: