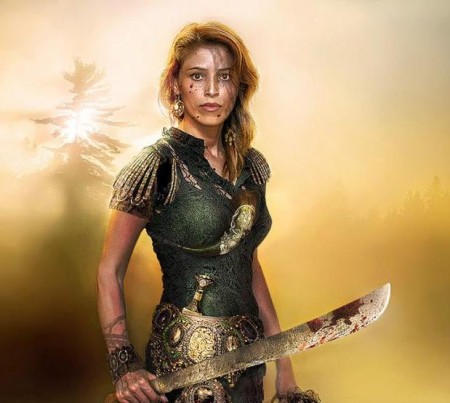 CapeCodOnline.com – A woman was arraigned today in Barnstable District Court on charges of assault and battery and assault with a dangerous weapon after she allegedly threatened to cut off a man's penis with a hand machete during an argument in Hyannis.

Around 1 p.m. Tuesday, Barnstable police responded to 140 Sea St. after reports of a domestic disturbance and found Elizabeth Ables, 34, of Hyannis, shouting obscenities at a man she knew, according to the police report.

Ables shouted that she was "going to chop (the man's) penis off," the report says.
Before police arrived, Ables and the man had gotten into an argument when she accused him of lying, according to the report.

When the man tried to leave, Ables picked up the machete and followed him outside, where there was a brief physical struggle before Ables was disarmed, according to the report.
I'm a little bit confused by this article. Is threatening to cut off a penis a specific charge? Meaning is threatening castration worse than telling someone you'll cut their finger off? It should be right?
We have first degree murder and manslaughter etc. for the different levels of killing someone, we should certainly have stronger penalties for junk removal than we do for chopping off other digits.
Cutting off a toe for instance should be like what? 20? 30 years? But if you cut off someones Johnson then we should be talking life without parole right? I mean I'm pretty sure I'd rather be murdered than to be estranged from my BFF.
This may be enough to sway the penis vs. vagina battle, sure guys can pee wherever they want, but not being at risk of getting sliced off on a whim is a distinct advantage for the vagina. We need to throw the book at this lady and make an example of her. It's hard enough these days for a man's penis on The Cape in March, we can't have an army of Lorena Bobbits running around playing whack a' pole with machetes.
Now if you'll excuse me I need to go remove everything but the spoons from my kitchen.
P.S. Whatever you do, DO NOT search Google images for "castration"
Facebook: The Real Cape
Twitter: Hippie - Insane Tony
More Articles From The Real Cape: