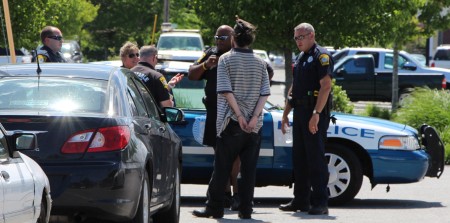 HyannisNews.com – Specialized Barnstable Police Units quickly chased down a tip jar thief this afternoon…

At about 2:30pm, officers were notified regarding citizens chasing a man who had just stolen money from a saxophone player who was performing on Main Street in the area of the farmer's market…

Two specialized Barnstable Police Units assigned to the Main Street area noted the suspect's description and were quick to respond…

After a brief search of the area, bike patrol officers along with the Community Impact Unit (CIU) caught up to and arrested the thief in the parking lot across from Burger King on North Street… approximately one block from where the saxophone player was robbed…

About six dollars was recovered and returned to the horn player…

The suspect is known to Main Street patrols and has been involved in several recent incidents…
We mentioned a while ago how we had gone through a lull when it comes to Cape criminals. Well, I think we jinxed ourselves because now they are out in droves. Hopefully they are all getting it out of their system and things quiet down soon, but until then we will keep shining a spotlight on their lunacy.
It takes a special kind of douche to steal a street musicians tip jar money. You just can't find two more polar opposite people than the guy playing saxophone on the street and the urchin that steals his six bucks. The former is creating art that makes the street a better place to be for everyone on it, the latter is a leech sucking the joy, money and sense of security from everyone on that same street.
Sometimes the devil works in mysterious ways, other times he walks right down the street in a black and white striped shirt and steals six dollars from a saxophone player.
Facebook: The Real Cape
Twitter: Hippie - Insane Tony