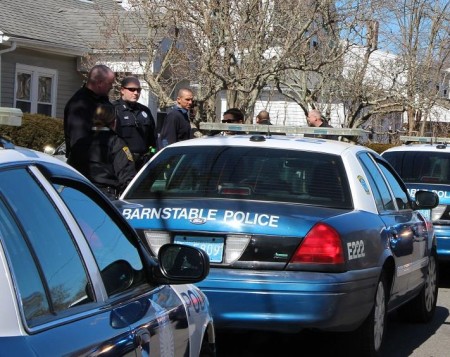 Hyannisnews.com – According to sources, the wrong things were said, insults were made, and "fists started flying…" Just after 1:30 pm, police responded to Spring Street for some type of disturbance in the street. A woman who had been celebrating a wedding was down and needed medical attention. Hyannis Rescue was called…

A local homeless couple were married at Barnstable Town Hall earlier this morning. At about 9am, a wedding party took place after the official ceremony in the area of the village green. Other downtown homeless were invited and libations were served.

Police eventually kicked about ten party goers off the village green. The celebration then slowly made it's way across town where it ended on Spring Street after police received a call about a woman yelling…

That's when the humble festivities turned violent. A woman was down and others were fighting. Initial officers on scene called for backup as the situation escalated and random fights continued to break out…

The stricken female rallied and managed to get up and rejoin the brawl. She was arrested for Disorderly Conduct and is also being held in protective custody.

A male party-goer was also arrested and charged with Disorderly Conduct. He also had been drinking all day and will be held in protective custody until he's sobers up.
I have to admit I kind of feel bad for the homeless people on this one. This sounds like every wedding I've been to on Cape Cod. The only difference is we were on private property and not a village green. I guess it's only OK to have a bunch of people get shitfaced and enjoy a couple of bridesmaid brawls if you paid $85 a head and rented a tent?
Can you imagine how much fun the bride and groom had registering for gifts though? Walking around the liquor store with the price gun shooting the UPC's on cartons of Newports and bottles of Mad Dog 20/20 like they were playing duck hunt.
One person I definitely feel bad for though is the homeless gal who caught the bouquet. Poor thing probably had some toothless crackhead push a garter so far up her leg she had to charge him for a full hour.
Facebook: The Real Cape
Twitter: Hippie - Insane Tony