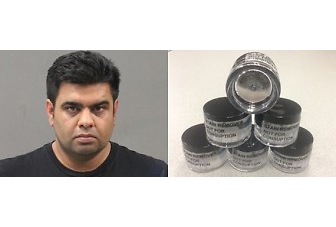 Cape Cod Today – HYANNIS – An investigation into the sale of bath salts, which included controlled buys, has resulted in distribution charges for a Weymouth shop keeper. According to a Barnstable police release, Det. Brian Guiney began an investigation into the sale of bath salts at the Corner Food Mart at 640 Main Street in Hyannis several months ago.

During the investigation, controlled purchases of the illegal drug were made at the store. Bath salts, a synthetic drug with troubling affects including panic attacks and hallucinations, was added to the Massachusetts Class C schedule of substances in January 2013.

On Sunday detectives executed the search warrant at the store during business hours. During the raid, Det. Guiney reportedly seized six glass vials containing bath salts, police said…

Muhammad A. Abid, 34, of Weymouth, was placed under arrest and transported to the Barnstable Police Station where he was booked and charged with possession of a Class C substance (bath salts) with intent to distribute.
It is a good indication of just how screwed up Cape Cod is when a guy commutes from Weymouth to Hyannis to sell his bath salts. Think about that. A bath salt dealer can't establish a clientele in a suburb of the biggest metropolitan area in the state, so he drives 60 miles to Cape Cod to peddle his synthetic drugs that cause people TO EAT OTHER PEOPLES FACES.
I don't know, maybe it's time to lift that fascist curfew in Hyannis? Give people a healthier way to spend their time other than bath salt induced panic attacks?
Facebook: The Real Cape
Twitter: Hippie - Insane Tony