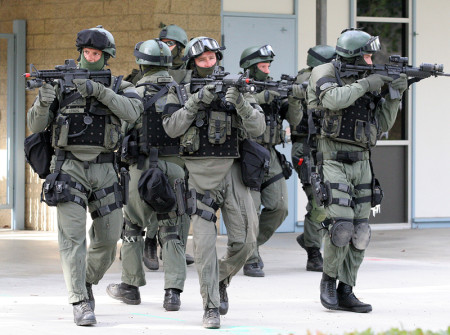 CapeCodOnline.com – A prank 911 call reporting an active shooter at a Main Street home drew a massive police response and closed a portion of Route 28 for nearly an hour Wednesday night.

Just after 10 p.m., local and state police responded to 545 Main St. after receiving a call from an untraceable Skype phone that a teenager inside had a gun to his mother's head and another two minutes later reporting he shot his mother, according to Sgt. John Emerson.

A perimeter was set up around the property, closing off a portion of Main Street and an ambulance and firetruck sat waiting in the parking lot at the nearby Hess Gas Station.

Police eventually made contact with the alleged victim, Penelope Pina, and her 17-year-old son and learned that the report was false, police said.

"It's not funny, but apparently it's something that gamers occasionally do," Emerson said on the scene Wednesday night.

When they made entrance into the home, the young man was still playing the video game.

There was no weapon in the house, and the scene was quickly cleared.

The hoax, known as "swatting," is when someone calls in an emergency situation that generates massive police or SWAT team response. It is a trend among combat-themed video gamers seeking retaliation against their virtual opponent.

Dennis officers were assisted by Harwich Police, Massachusetts State Police, and the Dennis Fire Department.
Well this is an interesting development in the world of gaming. I guess teen angst in the industry has come a long way from when we used to freak out and blow into the Nintendo to fix it. Sure, I can remember getting pissed and throwing my controller because I missed one of those little arrows and my bike overheated in Excitebike, but this brings gamer anger to a new level.
Oh you're beating me at Call of Duty? Well what do you think about the 38 cops from 3 departments outside your house with automatic weapons pointed at your mother's head? Seems a bit over the top to me, but what do I know? I'm still convinced that NHL '94 for Sega Genesis is the greatest video game ever invented.
This is the problem with online gaming, sure it's cool that kids can play with their friends from school, but not so cool when they piss off some hillbilly, Trench Coat Mafia soldier in training that's listening to Insane Clown Posse in the basement of his grandmothers meth lab trailer on the outskirts of some shit town in one of those states in the middle of the country that smells like The Barnstable County Fair.
Just be careful kids, talk shit to the wrong person on those headphones and the next thing you know there's an Amazon package at your door compliments of Ted Kaczynski Jr.
Facebook: The Real Cape
Twitter: Hippie - Insane Tony