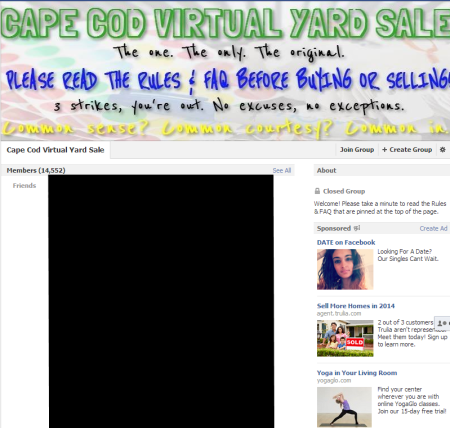 CapeCodOnline.com – A 19-year-old arrested Monday in connection with a string of break-ins allegedly stole televisions, golf clubs and electronic devices from neighbors and tried to sell them on Facebook through Cape Cod Virtual Yard Sale.

John Evangelista was arrested after the owner of a seasonal home on Archibald Circle called police Friday night to say a television had been stolen, according to a report by Harwich Officer Amy Walinksi.

When the homeowner described the TV, Walinski wrote, "I immediately knew of a suspect."

"I noticed Jack Evangelista posted a television for sale on Cape Cod Virtual Yard Sale," she wrote.

Meanwhile, police discovered that another home on Archibald Circle had been broken into. The screen door had been knocked out and inside a television was missing from the wall, she wrote.

Walinski discovered other items for sale by Evangelista on the Facebook page, including women's and men's golf clubs, an iPod player and a radio.
Wait so are there things for sale on the Cape Cod Virtual Yard Sale Facebook page that aren't stolen? I just kind of figured everyone assumed that if you buy something from a Facebook yard sale page it's definitely hot?
I'm not saying what this dude did isn't wrong, I'm just saying that we are making it pretty easy for thieves these days. It used to be if you were going to steal televisions you needed to have a connection to sell your goods, a fence if you will. You'd have to drive your shady van to some shady building in New Bedford and deal with some even shadier dude. Nowadays unloading stolen merchandise is as easy as changing your status update on Facebook.
Call me nostalgic but I miss the old days when criminals had to work hard for their money. They had to have elaborate organizations with hierarchies, equipment and contacts. These kids these days have no appreciation for stealing T.V.'s the old fashioned way. This new age is breeding lazy, entitled thieves who can just snap a photo of their wares and sell it in 140 characters or less.
Facebook: The Real Cape
Twitter: Hippie - Insane Tony