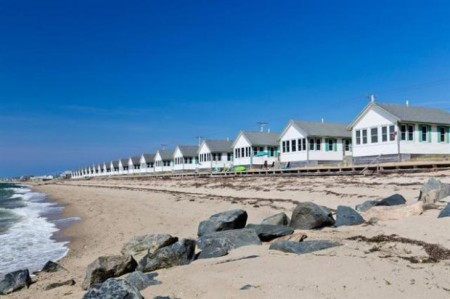 Cape Cod Curbed – Half of Truro's adorable Days Cottages have already found buyers. We reached out to listing agent Gregg Russo of 3Harbors Realty and he let us know via email that the 22 beachfront icons "are half sold with two closing in January and the other 9 closing in April." To refresh, the Beach Point 2BR, 1BA 420-square-footers, commonly referred to as the flower cottages, hit the market as condos in mid-October after spending over eight decades as summer rentals "known throughout the world."

Not surprisingly, Russo expects the remaining 11 units to sell during the "dead of winter, as people want to buy for the coming summer season." In other words, the opportunity to drop $399,000 to own part of "the most painted and photographed cottage colony on the Outer Cape" won't last much longer.
Cape Cod ladies and gentlemen, where a shipping container with windows costs $399,000! What a steal. If you airlifted one of these things to Alabama and put it on the market it would list for $3.27, and that's with 200 acres of land. What more proof do you need that you live in one of the most desirable places on earth than the fact that people are willing to shell out almost $1,ooo per square foot for a cabin?
P.S. At least you get tons of privacy for the money.
Facebook: The Real Cape
Twitter: Hippie - Insane Tony
More Articles From The Real Cape: