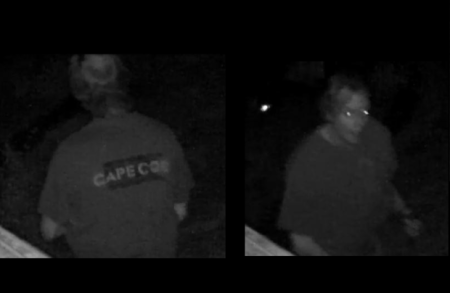 OL.com – Lake Oswego Police are searching for a man suspected of masturbating near and peering in the windows of homes in the Lake Grove neighborhood.

Police say the owner of a home on the 3000 block of Douglas Circle reportedly chased a masturbating man out of the driveway at 2:45 a.m. on Thursday. The man ran down Twin Fir Road near Upper Drive, police said.

Police later learned of a security video showing a man in the backyard of another home on Douglas Circle. Still photos from the video appear to show the man wearing a "Cape Cod" T-shirt.

In the video, the man briefly leaves the camera view but returns with no clothes on. He appears to peer into windows of the house and masturbate, police said. The man can also be seen drinking what appears to be a beer and smoking.
C'mon man! Like we don't have enough problems with our image from outsiders. People already think we are a bunch of alcoholic heroin addicts that inbreed in the winter time, now we have to deal with this? Please, if anyone reading this is planning on heading off Cape anytime soon to spray some shingles with baby batter, do us a favor and wear a Wareham shirt will ya?
P.S. I almost convinced myself that this guy was a former tourist and not a real Cape Codder, but then I read about his multi tasking skills. Homeboy was smoking a butt and drinking a beer while he was masturbating? Yep, there's only one place to learn that juggling act. This dude is a Cape Codder alright.
Facebook: The Real Cape
Twitter: Hippie - Insane Tony
More Articles From The Real Cape: