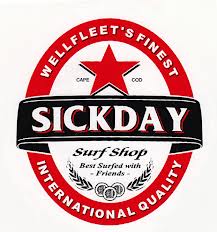 CapeCodToday.com – A Wellfleet man has been arrested, accused of breaking into the Sick Day Surf Shop on Main Street in February. According to Lt. Michael Hurley, Wellfleet police, with the assistance of Eastham and Truro officers, executed a search warrant at the home of 37-year-old Daniel Morton on Wednesday.

Morton is alleged to have broken into the Main Street shop and stolen cash and merchandise. After searching Morton's home, police reportedly confiscated sunglasses, watches, baseball caps and cash taken from the store.

Wellfleet police were granted the search warrant based on evidence discovered during an extensive investigation.
Remember when we said that stealing oysters on Cape Cod should result in a scarlet letter? Well I think we found another crime deserving of such a punishment. Surf shops are Cape institutions. Board shorts, bikinis, sunglasses, flip flops… we need our surf shops as much they need us, it is a perfect symbiotic relationship between the beach bum and the surf shop. This guy fucked with that relationship.
Not to mention what did the SICKDAY Surf Shop people ever do to anyone? Their biggest crime is maybe closing a little early to catch a swell. This Morton guy is definitely getting his Bro Card taken away for life, no cool man… not cool.
Facebook: The Real Cape
Twitter: Hippie - Insane Tony
More Articles From The Real Cape: