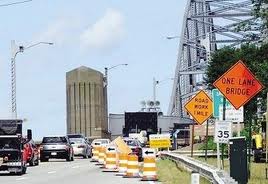 From The Army Corps Of Engineers Facebook Page – Update on Sagamore Bridge Lane Restrictions: Schedule Calls for Work Monday thru Saturday

– Our painting contractor working on the Sagamore Bridge may also perform work on Saturdays with lane restrictions. Work on Saturdays will be done as needed to make up for weather delays that may occur during each work week.

– The revised work schedule is Monday through Saturday, from 8 a.m. to 4:30 p.m., depending on weather.
Tear it down! Build a new one. Maybe if it had more than two 4 foot wide lanes it wouldn't be such a big deal when they shut one down every five seconds. It might also keep us from crapping our pants every time a tractor trailer blows past us six inches from our face.
The bridges over The Canal were built in 1933 for fucks sake. Like 327 people lived on Cape Cod back then and 9 of them had cars. Oh and the cars were 3 feet wide and had a top speed of 17 miles per hour. Those aren't exaggerations either, those numbers came straight off the top of my head.
Bottom line is that it's time to rebuild. We aren't talking about The Golden Gate Bridge here. These aren't historic landmarks they are highways. Maybe it's time for us to enter the 21st century. Wouldn't it be nice to not sit in three hours of traffic with a bunch of New York assholes every time we need to go off Cape?
Facebook: The Real Cape
Twitter: Hippie - Insane Tony