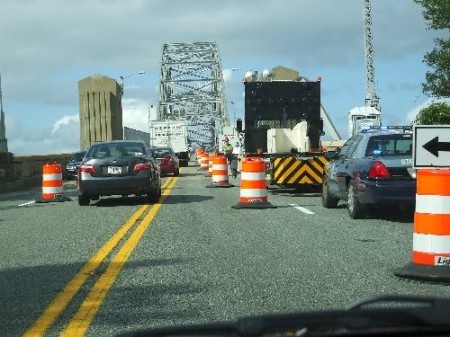 CCT – According to the United States Army Corps of Engineers (USACE), the restrictions are necessary to complete the painting project.

Monday through Saturday, from 8 a.m. to 4 p.m., one lane will be open in each direction. Depending upon the weather, Sunday work may also be required. All four lanes will be open each evening.

The Monday through Saturday lane restrictions are expected to be in effect through Wednesday, May 20, according to USACE.
We are well past the 2 year point now painting the Sagamore Bridge. They said December, they said February, they said April, now they are saying May 20th. Anyone want to bet they miss that date too? This project is reaching Big Dig levels of ineptitude. If there are lane restrictions through another summer we need to fire everyone. I don't even think you can fire the Army Corps of Engineers, but that doesn't mean we shouldn't try.
I've said this many times but it bears repeating because it is so unreal. It has taken us longer to paint The Sagamore bridge in the 21st century than it took for them to build it in the 1930's. Mankind is officially regressing.
Facebook: The Real Cape
Twitter: Hippie - Insane Tony
More Articles From The Real Cape: