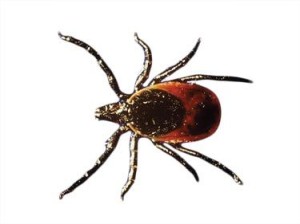 CapeCodOnline.com – Cape health officials are seeing increases in tick-borne disease this summer — and it's not just Lyme disease anymore.

Cases of newly emerging illnesses anaplasmosis and babesiosis continue to rise, while a recently discovered disease also transmitted by the bite of a deer tick — miyamotoi — has been detected in more than a dozen Cape Codders.

Dr. Laurel Miller, medical director of infectious disease services for Cape Cod Healthcare, said a Norwood laboratory that has developed a test for miyamotoi has diagnosed 13 to 14 people from the Cape with the tick-borne illness this summer.

"We're starting to see miyamotoi. It's not huge numbers," Miller said. The disease was first documented in U.S. residents in early 2013.
Oh great, we've got beaches closing because of Great Whites, people are getting murdered in the streets and now we have brand new diseases coming out of the woods. Is there anywhere safe on Cape Cod anymore?
I don't know about you but I'm getting on Zillow right now, it's time to move somewhere safer, maybe Roxbury or something.
P.S. I'm 78% sure I ordered the Miyamotoi at a Thai food place the other night.
Facebook: The Real Cape
Twitter: Hippie - Insane Tony