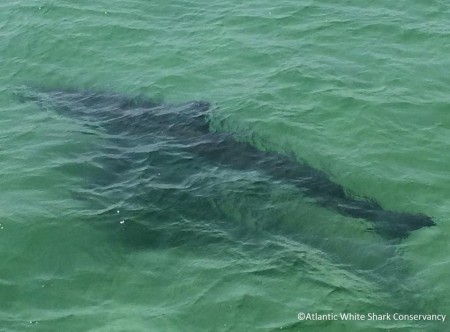 Boston Globe – Researchers tagged a great white shark this week off the coast of Cape Cod, the first of the season to be marked for tracking in the area and one of only a few sightings of the massive predator.

The shark, nicknamed "Avery" by officials with the Atlantic White Shark Conservancy, was identified as a female estimated at around 12 feet. It was tagged by the Massachusetts Shark Research Program off of Chatham.
Hey, no big deal right? Sharks don't eat people, they only eat seals. Just don't swim near the seals they say. Well I watch this unreal video from WHOI and tell me "Avery" won't eat the wrong thing by accident…
FUCK THAT SHIT I AM DONE! That shark attacked a yellow piece of metal! You're telling me that if there was a delicious Italian blogger such as myself doing the backstroke around "Avery", that she would just let me swim by because I'm not a fucking seal? That beast would snack on my ass faster than you can say salami.
Nope, sorry. All done. Sending Mrs. Hippie to Wal-Mart for a kiddie pool as we speak, if you need me I'll be splashing around in it on my front lawn. Ocean is all you Avery.
thanks to Ben for the tip
Facebook: The Real Cape
Twitter: Hippie - Insane Tony