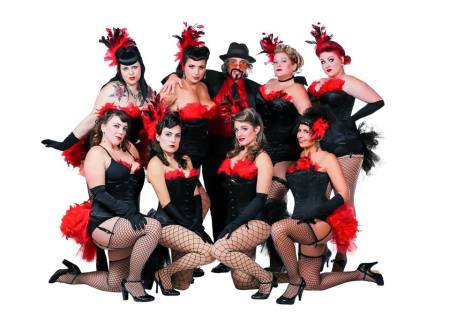 photo courtesy of MinFin Photography
It's the most wonderful time of the year! The Brazen Belles are hosting their Winter Spectacular this Thursday – Saturday at The Land Fall in Woods Hole. If you haven't seen our local Cape Cod burlesque troupe yet then we would highly advise you get out to one of these shows. We are running out of adjectives to describe just how entertaining a Belles show is so here's an invitation straight from the girls…
(You can read our original review of the Belles HERE)
Get your heart on this Holiday season and join us for our 3rd annual Winter Spectacular. Featuring the amazing Ela Rogers with your host Curtis Suede. 

Always aiming to please,The Belles bring a variety of talents: singing, dancing, acting, wit, sass, and of course seduction to the stage. Every show includes a mixture of racy retro costumes, chorus line kicks, slapstick antics, sultry dance moves, and physical comedy skits. A troupe of dangerous flirts, rowdy rabble-rousers, and saucy comediennes, we will have you laughing, lusting, and longing for more.

Queens of the corset, sirens of the stage, dolls of the dance floor, WE ARE YOUR VILLAGE VAUDEVILLE.
Get your tickets now at Eight Cousins Books, The Landfall or online at: www.bellestickets.com
Facebook: The Real Cape
Twitter: Hippie - Insane Tony
More Articles From The Real Cape: