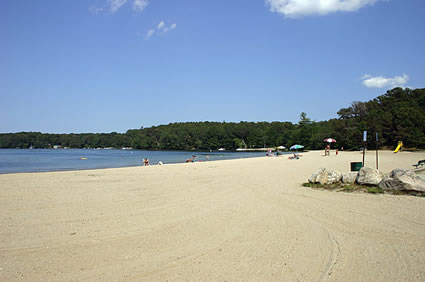 CapeNews.net – Geoff Spillane – A popular beach on north side of Mashpee Pond will be off-limits this summer for motorboats, overnight stays, and open fires.

Boat Landing Beach, located on property owned and managed by The Trustees of Reservations, will be designated as a swim-only area by Memorial Day. A designated swim area requires that motorboats stay out of the marked area, and that they must travel no faster than six miles per hour within 300 feet of the swimming zone.

The announcement was made by Andrew R. Gottlieb, chairman of the Mashpee and Wakeby Lakes Management Committee, at its meeting last Thursday evening, April 24.

"We were experiencing an influx of people who would take boats out late in the day, after the attendants had stopped collecting fees at the state boat ramp. They would shuttle people to the beach for parties, cookouts, and overnight use of the beach, which is prohibited," Mr. Gottlieb said.
Parties? Cookouts? Overnight Use? What the hell did these people think they were doing? You can't have that type of fun on Cape Cod! To add insult to injury these heathens were heading out late in the day after the attendants were gone to inadvertently avoid paying fees. There is no chance that they have, you know, jobs that might keep them from departing at such hours, so they must be criminals.
You remember The Real Cape Fun Police Test right? If it is totally fucking awesome they WILL put a stop to it. Well, parties, cookouts and sleepovers on a beach with your boat in a nice calm pond sound pretty fucking awesome right? I'm telling you the test works every time. Shut it down Wakeby, the last thing you want to be is totally fucking awesome.
Hey Mr. Gottlieb, instead of banning motorboats entirely and ruining your business, why don't you charge MORE for them to be able to stay overnight and hire a ranger like all of the other camping places on Cape Cod? Is your love of money trumped by your hatred for fun?
P.S. It should be said that quite a few of our fun police stories seem to come from Geoff Spillane. Remember, without real reporters we wouldn't know what to bitch about, so thanks Geoff.
Facebook: The Real Cape
Twitter: Hippie - Insane Tony